Canberra and nearby towns have plenty of excellent fully fenced dog parks that provide safe, off leash areas for dogs to exercise and socialise - both essential for keeping your dog happy and healthy. Here's all you need to know about Canberra dog parks, plus nearby dog parks in Queanbeyan, Googong, Jerrabomberra and Yass.
General info and rules
Belconnen Dog Park
Casey Dog Park
Duffy Dog Park
Forde Dog Park
Googong Barkley Dog Park
Googong Rockley Dog Park
Jerrabomberra Dog Park
O'Connor Dog Park
Point Hut Dog Exercise Area
Tuggeranong Dog Park
Queanbeyan Dog Park
Yarralumla Dog Park
Yass Dog Park
Canberra, Queanbeyan, Googong and Jerrabomberra dog parks map
Yass Dog Park map
The dog parks usually include:
separate areas for small, very young or older dogs that need quieter interactions
fresh water for dogs and humans
shade trees
bins (but make sure you bring your own poo bags).
While the parks are off leash, it's not a free for all. Make sure you know the dog park rules and your responsibilities when using the parks. See the ACT Government's website for a detailed explanation of dog park etiquette, do's and don'ts. Each park also has a summary of rules posted on the entry gate.
Be aware that dog parks don't suit every dog. If you're looking for other off leash options, read our blog on the range of alternatives available in Canberra.
There are eight dog parks in Canberra, one in Queanbeyan, one in Jerrabomberra, two in Googong, and one in Yass a bit further down the road.
The maps at the end of this blog show the precise location of each dog park.
Here's everything you need to know about each dog park, listed below in alphabetical order.
Belconnen Dog Park
Where: Diddams Close, Belconnen, adjacent to Lake Ginninderra
Description: In a pretty location within parkland along Lake Ginninderra, the Belconnen Dog Park (also known as Lake Ginninderra Dog Park) has separate large and small dog areas. Tall eucalypts provide reasonable shade and there are some good grassy as well as dirt surfaces. There are several benches for humans.
Features: a very convenient (humans') toilet block near the gate, plus a pretty, family friendly and dog friendly walk starts here - see our detailed Lake Ginninderra walk directions that includes a dog swimming beach just outside the dog park.
Casey Dog Park
Where: Yeend Avenue near Horse Park Drive, Casey
Description: With a lovely view over grassland and new suburbs, Casey Dog Park (also known as Springbank Rise Dog Park) provides two generous-sized separate areas for large and small dogs, both well shaded with eucalypts. The large dog area includes a treed section with lots of boulders perfect for exploration. Surfaces are a mixture of dirt and gravel, with some grassy areas remaining in the corners furthest from the gate.
Features: the friendly people and rock climbing opportunities!
Duffy Dog Park
Where: Warragamba Avenue near Eucambene Drive, Duffy
Description: Duffy Dog Park (also known as Weston Creek Dog Park) is Canberra's newest dog park with two spacious separated sections for small and large dogs, benches and drinking water. Generous tree plantings will provide lots of shade in the future but until then avoid the park at midday in midsummer. The surface is a mix of dirt, grass and barkchip.
Features: spacious enclosures and beautiful vistas north and west across the pine forests and beyond.
Forde Dog Park
Where: Pooley Street near Zorzi Street, Forde
Description: Forde Dog Park is the smallest Canberra Dog Park with only one area shared by all dogs. This might make it too stressful for smaller or more timid dogs when there are boisterous, dominant dogs in the park, or just too many dogs at one time. There are some large eucalypts providing shade around the park, but it can get hot if visiting in the middle of the day. The surface is woodchip.
Features: a large range of agility equipment including hoops, hurdles and pipes.
Googong Barkley Dog Park
Where: Fowlie Terrace, Googong
Description: The lucky residents of Googong, a few minutes south of Queanbeyan, have hit the jackpot with this super dog park. Although there is only one space for all dogs, the central pond, 'adventure' island, and agility equipment, provide lots of distracting play spaces and stimulation for visiting dogs. On hot days, humans can shelter under a covered seating area and dogs can cavort in the shallow, natural pond. The rural and mountain views are an extra bonus.
Features: that wonderful pond and rural vistas, the delightful Megadog sculpture and a poo bag dispenser.
Googong Rockley Dog Park
Where: Corner of Rockley Parade and Alchin Street, Googong
Description: Ok, this is probably the smallest dog park ever, but it does have some fun agility equipment like pipes and weavers to try out, and small dogs would be fine having a romp in this space. For more energetic exercising however, we recommend Barkley Dog Park just down the road.
Features: pipes and weaving poles for exercising our dogs' brains plus a poo bag dispenser.
Jerrabomberra Dog Park
Where: Kinlyside Avenue opposite Darmody Place, Jerrabomberra
Description: Jerrabomberra Dog Park provides only a small fenced area with limited space for energetic games. Unfortunately it's the only option for Jerra residents due to the restrictions on off leash exercising elsewhere. Dog owners looking for more space will need to travel to nearby Queanbeyan Dog Park.
Features: the pretty surrounding grassland.
O'Connor Dog Park
Where: Fairfax Street near the round-a-bout at Dryandra Street, O'Connor
Description: O'Connor Dog Park (also known as the Inner North Dog Park) features two large segregated enclosures for large and smaller dogs, a well-gravelled carpark and very groovy looking human-dog drinking fountains. The large dog enclosure has good shade provided by mature eucalypts and a mix of grass and woodchip surface; the small dog enclosure is more exposed with only a woodchip surface. Bins are located outside each gate and there's plenty of benches for humans.
Features: the bush setting and enthusiastic patrons.
Point Hunt Dog Exercise Area
Where: Woodcock Drive near Jim Pike Avenue, Gordon
Description: This fenced 'dog exercise area' in far south Canberra is a local secret. There's no signage visible from the road; it's not included on the ACT Government website page of fenced dog parks; and there's no parking area, bins, benches or water provided. Your dogs do get a spacious, well-fenced area which looks a bit like ex-pasture land with a scattering of young eucalypts. There's also access through the park to a walking track leading to Point Hut Crossing on the Murrumbidge River. Dogs are allowed on both sides of the river, but only off leash on the far side. To find the park, drive along Woodcock Drive heading north, and about 50 metres past the intersection with Jim Pike Avenue, look for a dirt area on the left where cars have parked off road on the wide grass verge. You'll see a small pedestrian gate in the fence line here. Walk through this and follow the dirt track straight ahead to another wire fence - this one with wirenetting about a metre high and two lines of barbed wire above that. Walk through the gate to enter the fenced dog park. There's a small sign inside the park simply saying 'Point Hut Dog Exercise Area'; there are similar small signs at other entry points to the park.
Features: the rural setting and walking tracks to river swimming.
Queanbeyan Dog Park
Where: Southbar Road, at the entrance of The Scar nature reserve near the junction with Tharwa Road, Queanbeyan
Description: Just over the ACT border, Queanbeyan Dog Park (also know as The Scar Dog Park) provides separate areas for large and small dogs and a few pieces of agility equipment. Unfortunately the lack of mature trees makes it less attractive on hot days, despite the very friendly Queanbeyan locals.
Features: the great views from the top of The Scar if you make the effort to trek out of the park uphill for a few minutes.
Tuggeranong Dog Park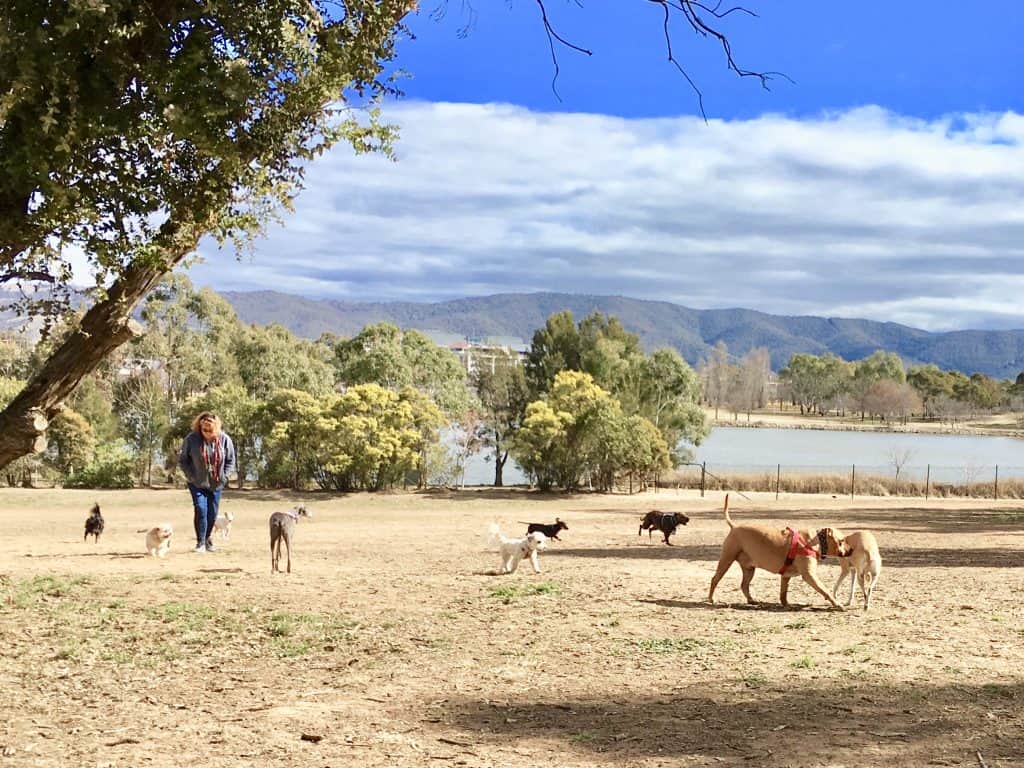 Where: Mortimer Lewis Drive, Greenway
Description: Tuggeranong Dog Park is in a lovely location with pretty views over Lake Tuggeranong and to the Brindabellas beyond. It provides generously sized separate areas for large and small dogs, includes mature eucalypts with good shade, a few grassy spots, and benches for humans. And now there's Mimi's Pitstop coffee van offering drinks and snacks only 300 metres away on Mortimer Lewis Drive from 8 am Thursday to Sunday.
Features: the great views and good shade trees.
Yarralumla Dog Park
Where: Banks Street near Brown Street, Yarralumla
Description: In one of Canberra's older suburbs, Yarralumla Dog Park boasts an elite location next to historic Westbourne Woods. Unfortunately most of the tall, shade-providing pines have recently been razed, with replacement plantings still immature, but there are vistas beyond through the fence into the beautiful golf course with opportunities to spy the resident 'roo pack. Generous separate areas with grassy spots are provided for large and small dogs, and there are benches for humans.
Features: a dog swimming beach on Lake Burley Griffin just outside the park adjacent to Brown Street, and a great dog friendly walk nearby (see Yarralumla walk or Yarralumla pram friendly walk for full directions).
Yass Dog Park
Where: Yass Valley Way - coming from the town centre travelling west, take the first right into a car park immediately after crossing the Hume bridge over the Yass River.
Description: Yass Dog Park provides three, yes three, fenced areas. The largest is for boisterous and confident dogs, the second for smaller or less confident dogs, and a third for dogs just starting out. There's plenty of shade and parking, plus rubbish and recycling bins. There is also very pretty walking available on well paved footpaths along the adjacent riverside (marked on the Yass map below). Unfortunately there is no onsite water.
Features: the riverside location and the wonderful Thyme to Taste cafe/deli just across the river serving great coffee welcomes dogs in an outdoor courtyard accessed by the rear lane.
Interested in exploring more of Canberra with your dog? Try some of our great Canberra dog friendly walks showcasing the best of Canberra and featuring off leash areas, dog friendly cafes and more.
Canberra, Queanbeyan, Googong and Jerrabomberra dog parks location map
Click on the 'view larger map' icon at the top right hand corner of the map banner to see all locations in detail. Or use the plus/minus tools to zoom in and out.
Yass Dog Park location map
Click on the 'view larger map' icon at the top right hand corner of the map banner to see the location in detail. Or use the plus/minus tools to zoom in and out.